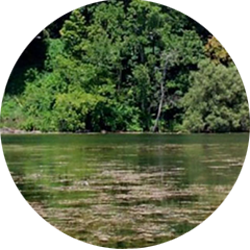 "I know what it's like."
"I know what it's like to see your lake go from good to bad," says John Tucci, CEO and Founder of EverBlue Lake Systems. "It's heartbreaking! I was there."
It was 2005, two years after John was finally able to afford the lake property his family always wanted. His lake began to die.
With a background in geology, John decided to take matters into his own hands. He tried chemicals. But, over time, that only made matters worse. He then turned to non-invasive solutions; solutions found in nature, like aeration and oxygenation.
What started out as a successful experiment has evolved into one of the premier, all-natural lake cleaning and restoration companies in the country. In part, it's because of EverBlue's relentless commitment to marrying innovative technologies with nature.
"Whenever I can make families feel as good about their lake as I do mine", says John, "That's a good day.
"Whenever I can make families feel as good about their lake as I do mine", says John, "That's a good day."
Our Commitment To Innovation Continues