Treat, Beat, and Defeat Muck, For Good
Are your summer plans already down in the muck because of lake algae, weed overgrowth, and other symptoms of poor lake health?
While chemical treatments quickly kill off the vegetation that makes your lake unsightly and unswimmable, herbicides are just a short term solution. These chemicals actually make your lake worse each year —  all while you keep waiting for the improvements that you paid for.
A Personal Solution
We are so pleased to announce the EverBlue DOCK Shoreline Aeration System for lakefront water treatment. This single-home solution is specifically designed for lakeshore clean up along mucky shorelines, stagnant coves, private lakes, canals, and channels. Now, you can take control of your shoreline's health, for good.
Because of our all-natural approach, the EverBlue DOCK does not require a permit to install and use. This summer, it's time to start loving your lake again.
No more stink, "ick", or chemical treatments

A long term, low maintenance investment in your property

A natural solution to lake muck that really works
How does it work?
EverBlue DOCK Shoreline Aeration System uses jet aeration technology like bubblers and circulators to clear floating weeds and algae with the power of 1200 gallons per minute, river-like circulation. Micro-bubble oxygenation rapidly dissolves the mucky compost pile on the bottom that feeds weed growth around your lakefront.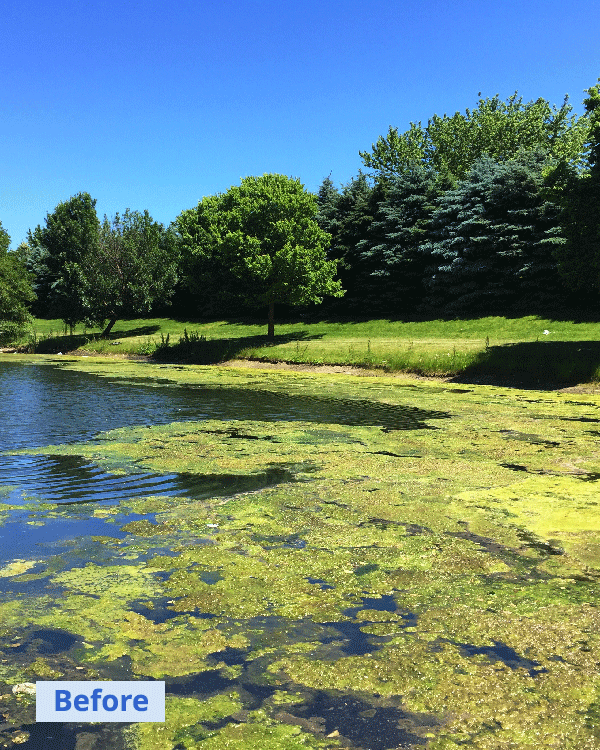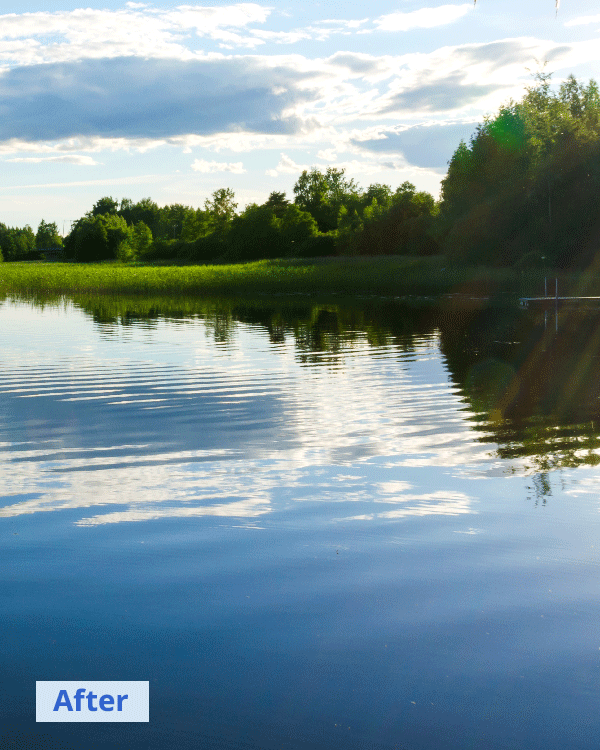 We Deliver Results
EverBlue Lakes has restored over 10,000 acres in lake communities across the United States since 2007. Our technology works by treating the underlying causes of lake muck and jumpstarting Mother Nature to naturally process excess lake vegetation and get rid of algae.
"We can go on the water with our grandchildren and swim, and we are no longer worried about the algae." — John Purple, Lake Pocotopaug in East Hampton, CT
"Prior to EverBlue our lake had major milfoil and algae problems. Since going with EverBlue, we have not had to treat for milfoil or algae. We have also seen a significant reduction in muck." — Jim Flanegan, Sand Lake in Grant, Michigan
Multiple case studies have demonstrated that our approach works to get rid of muck, algae blooms, and shoreline weeds while increasing markers of whole lake health.
Your Natural Solution from Shoreline to Whole Lake Restoration
See how Lake Pocotopaug turned around from a "hyper eutrophic" lake to a beautiful, usable and healthy lake using aeration technology. Watch the Lake Pocotopaug Video
About EverBlue Lakes
 "When you hire Everblue, you are hiring a true partner – someone who cares about your lake as much as you do." – Tim Hull, Indian Lake in Dowagiac, Michigan
EverBlue Lakes was started after John Tucci went on his own journey with lake health. As a father and lake lover, he understands that your lake home is your legacy. He is committed to saving the lakes, whatever it takes.
EverBlue Lakes has a consultative approach to ensure that this solution is right for you. Please provide your contact information and you will receive a call from us in a few days.